Engage your toddlers with these Christmas sensory bin ideas and easy activities! Little ones can play for hours in these bins of fun. And the best part is, you already have the materials needed lying around.  So fun, but also so inexpensive. Sensory bins support a wide range of learning skills. Toddlers can strengthen their language development, sort objects, create patterns, identify colors, and shapes all through PLAY.
What you'll need to create a sensory bin? 
There are many options when creating your own sensory bin. Collect an assortment of (fake) small gifts, jingle bells, garland, tinsel, miniature Christmas trees, reindeer, snow, etc. The possibilities are truly endless. Have fun, be creative, and make it your own.

Most importantly, create a bin best suited for your student or child. The objective is to allow children to learn through play. First, find a box, tote, or bin to house your materials. Next, gather a lid to prevent it from spilling and use it over and over again!
Plus, look how adorable!
Activity One: Create Patterns with a Sensory Bin 
Create a fun game where children can create patterns. First of all, discuss what a pattern is and show them with an example from the bin. Next, work with your student or child to create new patterns. This is a great way to expose young children to new shapes, colors, sizes, and textures.  Also, use play as an experience for them to learn new things.
Little ones can sort and create patterns based on:
·   Size (Which is bigger?)
·  Texture (Which feels smooth and feels bumpy?)
·  Shape (Can we sort the circles from the squares?)
·   Color (What colors do we see? Can we sort them?)
Use this as an opportunity to interact with your child/student through play and discussion.  Children learn best during engaging, hands-on activities.
Activity Two: Play a Game with the Sensory Bin 
Allow the sensory bin to become a way of communication for your toddler or student. Play a game of I Spy. They will LOVE it! Model how to play the game and use it as a time for the child to express what he/she has learned. Guide and direct open-ended questions!
·  What do you see?
·  What color is it?
·  Do you think it's soft and smooth or is it bumpy and hard?
If learning is made fun, it will never feel like learning, only play!
Activity Three: Play Math Games with the Sensory Bin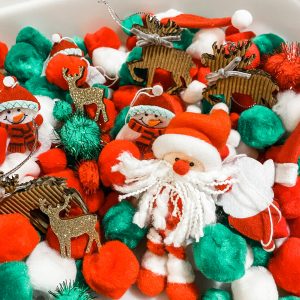 Last, of all, use the sensory bin as a way to explore basic math skills. Create a counting or addition game. Use Santa, the Reindeer, or other objects you have included practicing basic addition.
For example:
·  Count how many Santa's are in the bin, snowmen, reindeer? etc.
·  Hide objects such as dominos or counter cubes in the bin. Little ones can explore the bin and find the hidden item. Count the number of cubes or number of dots on the domino!
·  Children can count how many green objects are in the bin, how many red, etc.
Christmas Sensory Bin with Learning Activities
This particular sensory bin has added printable learning activities! You can grab these activities here! It includes math and literacy concepts and fine motor practice! After we complete each learning activity my toddler free plays in the Christmas sensory bin. It is so much fun to do together and I am sure your child will love it too! 
Sensory bins are great indoor options to keep wiggly toddlers busy during the winter months! Customize them however you wish for endless play all season long. How do you use sensory bins in your classroom or with your toddler at home? 
You might also like
Christmas Activities for Toddlers